During Swansea City of Sanctuary's and PERCEPTIONS' collaborative 'Home Away from Home' exhibition at the Swansea Grand Multicultural hub (21/03/2022 – 07/04/2022), we ran a number of creative awareness workshops. Over 250 schoolchildren and teachers attended the workshops from four Swansea schools: Ysgol Gyfyn Gwyr, Hafod Primary, Parkland Primary and St Joseph's Cathedral Primary School, some of them being schools of Sanctuary and other developing bids to become Schools of Sanctuary. These workshops were intended to create impact from the PERCEPTIONS research (mainly interviews with the migrants) by re-shaping participant opinions on migration, encouraging the public to engage with the topic and offering educational templates to recreate the workshops through social media dissemination. We will now summarise the key contributions made through these workshops.
Expressing Migration Through Dance
This workshop focused on expressing the themes from our PERCEPTIONS interviews through the medium of dance. It was created through a collaboration with Aissatou Diop, who runs Aidance – an African (Senegalese) dancing and singing workshop based in Swansea. Using her own migration story as a basis, Aissatou taught schoolchildren how to convey through dance the complex concepts from the PERCEPTIONS interviews, such as loss, disorientation and hope.
The workshop started with a physical and intellectual warm-up. The former included exercises to prepare for physical activity, and the latter had Aissatou sharing facts and information about European migration (which are at the centre of the PERCEPTIONS project). 
By focusing on themes that are difficult to express by solely using language, Aissatou choreographed specific dance movements that linked to the aforementioned main topics from the PERCEPTIONS interviews. As such, the children and the dancer collectively explored migration themes non-verbally, experimenting with expressing their feelings and interpretations of the themes through dance, creating a space for alternative politics of perception and expression.
In her interview after the workshop, Aissatou stated that dance helped amplify the emotional connection that the schoolchildren developed with the migrant stories, increasing the intensity of their response through direct participation: "I can feel it on their face, they were very sad, the way I was explaining it, I can feel it, I can see it –the way they were asking questions… if I just showed them… it wouldn't be the same".
The schoolchildren shared similar views, expressing in their feedback forms their enjoyment of the dance and newfound knowledge of migration after the workshop: "[My favourite part was] the dancing, I liked the way she showed her story in dance" – (a Hafod Primary pupil). The templates for reproducing these workshops and their educational impact (in the form of text, images and video) have been shared online to encourage wider engagement with migration topics and the PERCEPTIONS project's research.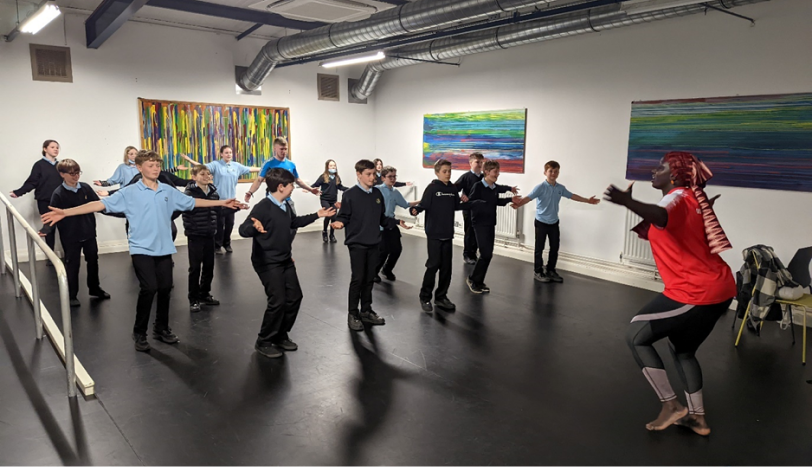 Visualising Migration Through Drawing and Collage
This workshop expressed migration experiences through different visual art techniques. The idea of a collage workshop to visualise migration come through our collaboration with arts practitioner, Izzy Coombs and Senior Education Officer, Amanda Roberts from Arts in Action at Swansea College of Art. Izzy's idea was to have children explore their perceptions of two abstract concepts from our research, hope and uncertainty, through Henri Matisse's Papier découpé (cut paper collage).
Before the event, Izzy was introduced to the extracts from migrant PERCEPTIONS interviews. She had a chance to consider different textual expressions of hope and uncertainty and reflect on different ways to introduce these themes to the children. By using a new take on Papier découpé, focusing on the use of drawing and tactile inputs such as cutting paper, the work(play)shop became a playful activity, where the children were excited about both the creative process as well as the result.
First, as a conversation starter, children were asked to reflect on several questions related to the migration themes, such as: "Have you ever been lost?", "What happened to you?", "What happened when you were found?", "Have you ever been in a place where people couldn't understand what you were saying?" By encouraging the children to explore and empathise with common occurrences in migration through their own experiences, the pupils developed a deeper understanding of migration. They were able to express their feelings through art by drawing some of their own ineffable, fleeting, intangible instances, which they associated with uncertainty (finding new friends in a new class) and hope (re-inventing their lives after the pandemic).
After completing their drawings, the children cut them out and glued them to a blue canvas under the practitioner's supervision, developing innovative arrangements of fragments, and offering alternative interpretations of uncertainty and hope. By decontextualising the drawings and placing them into collage, their intended meanings changed, encouraging future viewers to infer context, furthering the collage's impact.
Drawing helped the children find their own voice for displaying their understanding of abstract, hard-to-grasp concepts and they felt their interpretations were treated seriously. The pupils were also able to develop empathy towards migrants and understand their perceptions and points of view with 76% of participants stating the workshop improved their understanding of migrants. Furthermore, plans are afoot to display the collages by Arts in Action at their future exhibitions across South Wales, increasing the impact of this activity through its increased visibility.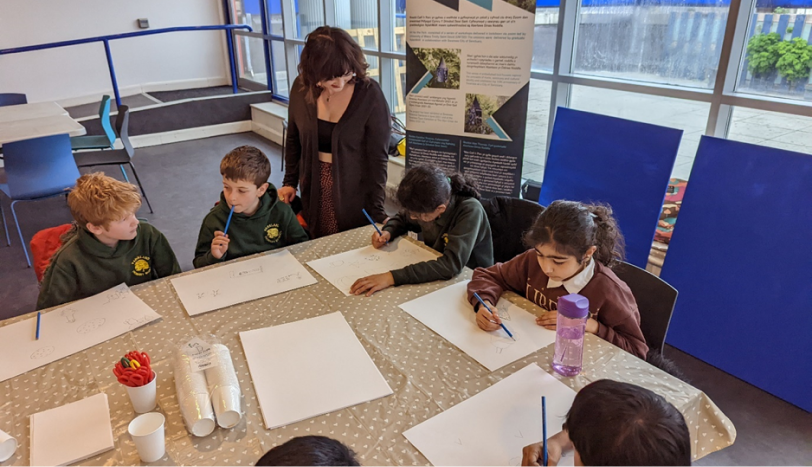 Conveying Migration Experiences Through Storytelling and Illustration
This workshop explored the use of storytelling and illustrations to express migration experiences from the PERCEPTIONs project. Through our connection with Swansea's African Community Centre, we came across Sweeta Durrati, a filmmaker, activist and migrant speaker from Afghanistan, who was more than happy to help us with our work.
Sweeta shared her migration story with the children through a lecture and short film about her two lives, one in Wales and the other in Afghanistan before migration. By making particular emphasis on the PERCEPTIONS migrant interview themes, Sweeta's personal migration story channelled the themes that many migrants consider important and meaningful.
Sweeta's migration story focused mainly on her connections with her family, such as her late father, who encouraged her to become a feminist activist and businesswoman, and her children, whom she was forced to leave behind when she fled Afghanistan. To engage with the children and teachers, Sweeta handed out question sheets containing basic questions about Afghanistan, such as: "What do people eat?", "How large is Afghanistan?", "Is it larger than Wales?" "And what kind of languages do they speak?".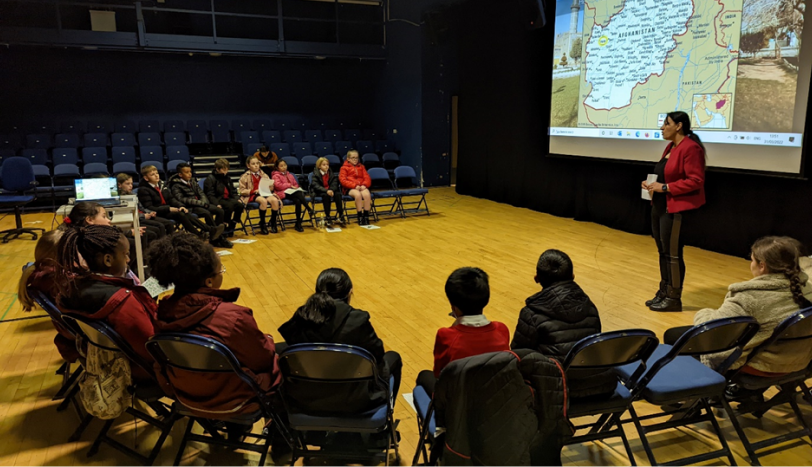 Concurrently to Sweeta sharing her migration story with the viewers, illustrator, Carys Walsh, was translating it into several artistic drawings. These drawings represent several themes that appeared in the PERCEPTIONS project migrant interviews, including hope, loss and uncertainty. As she explained in her post-workshop interview, Carys focused mainly on an art nouveau style, as it brought the characters a "melancholic look [that is] quite emotional, and almost like statues", and also experimented with continuous line drawings to represent an ongoing journey. To visualise Sweeta's two dramatically different lives, Carys created two different versions of Sweeta, "a past, Aghanistan self, and a present, Wales self", using the left side of the drawing to represent Sweeta's past and the right as her present.
The children really empathised with the migration story and its interpretations. One participant, when asked if they'd like to say anything about the day's activities, specifically highlighted their enjoyment of "the documentary because I learned about a country", reflecting the knowledge the viewers gained about migration and their engagement with different expressions of cross-border movements.
By translating Sweeta's migration story into Carys' illustrations, the workshop engaged viewers with challenging migration themes and encouraged them to empathise and interpret the illustration without using language(s). Apart from the art, which was shared via the social media, the PERCEPTIONS online platform and Swansea University's PERCEPTIONS webpage, this project created a copyable, adaptable and open educational resource that targets a variety of learners. The accessible and thought-provoking illustrations also allow the broader public to engage with key migration themes, deconstructing the hegemonic migration narratives circulated in policy and popular culture (Erwin, 2021).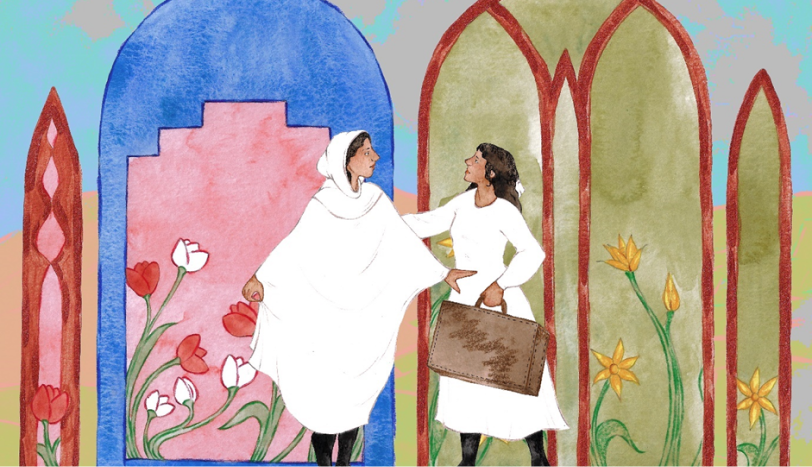 Empathising with Migration Themes Through Booklet Making
This final activity brought together crafting, drawing and storytelling activities in re-creating migrant journeys in the form of Little Migration Books. Our collaboration with the artist Sara Holden started from our call for creative practitioners put out by our local government authority. We were very interested in Sara's 'Little Books' workshop that used drawings on paper booklet pages to represent complex concepts and combined it with themes from the PERCEPTIONS migrant interviews, creating a 'Little Migration Book' workshop.
According to Sara, the resulting workshop used "creative methods to reshape preconceived thought and dialogue patterns on the concept of migration. Referencing the PERCEPTIONS migrant interviews, the Little [Migration] Books activity explores the project topics of faith, hope, loss, uncertainty, disorientation and invisibility through the visual arts".
The activity began with the playing of the short extracts from PERCEPTIONS migrant interviews, who shared their reflections on their migration journeys. Sara asked the children about their pre-existing perceptions of migrants and migration, gauging their knowledge and opinions prior to creating the books. After learning these, Sara said "I don't know if it was their own beliefs, but they had this idea about migrants and that they were a certain way, that you should ignore them or not talk to them or whatever. So, I think now they might be more accepting of migrants in general".
This re-imagining of migration took shape in the form of small booklets, which children learnt to create from folding and cutting A4 paper. Pupils drew their own visual interpretations of what those migration themes meant to them, placing each theme one per page, but leaving the final page blank to signify the uncertainty and openness of the journey.
Drawing provides school-age children with the means to easily express their concerns and broadens their ability to convey complex concepts (Vygotsky, 2004). Drawings mark little books with traces, creating a form of inscription and reflecting the process of making, and describing migration as a process rather than a completed event. The action of drawing also helps remembering and emotional learning about forms of knowledge that cannot be easily written down.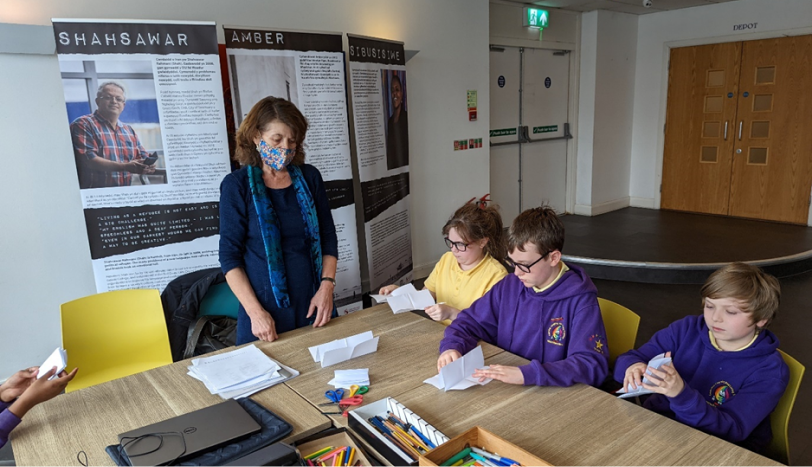 Conclusion
Overall, one can develop different types of impact by either using art-based workshops as inspiration or recreating them to suit the outputs of your own research. Small, two-day workshops can help to provide inspiration, ensure a positive and inclusive experience, encourage experimentation and creativity, and develop belonging and ownership of the outputs of a research project. The workshops were a huge success overall, with 93% of participants (in the feedback forms) expressing their enjoyment of the activities, 77% boasting a perceived improved understanding of migrant experiences and 71% believing they would use their newfound knowledge in personal progression in school.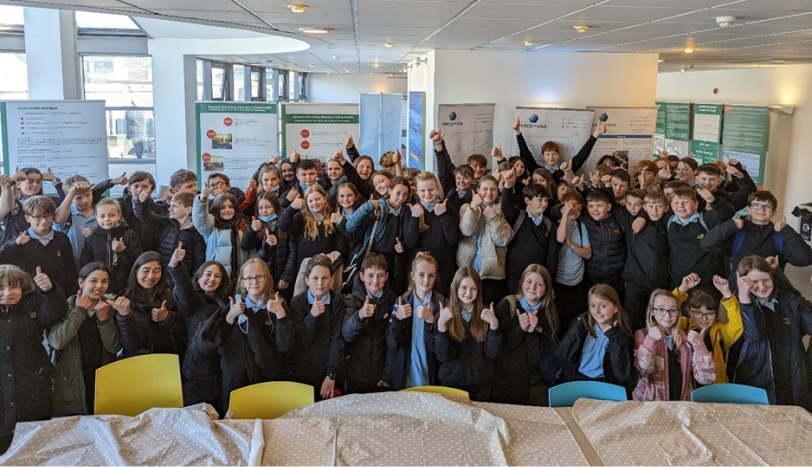 Authors: Harrison Rees and Sergei Shubin, Researchers at Swansea University.
Erwin, K. (2021). Storytelling as a political act: towards a politics of complexity and counter-hegemonic narratives. Critical African Studies, 13(3), 237–252. https://doi.org/10.1080/21681392.2020.1850304
Vygotsky, L. S. (2004). Imagination and Creativity in Childhood. Journal of Russian and East European Psychology, 42(1), 7–97. https://doi.org/10.1080/10610405.2004.11059210
Keywords: Impact, research, Europe, creative, dance, collage, books, illustration, lecture, enhance, create, migration, migrants, drawing,