Dr. Melina Breitegger
I am a researcher and project manager at SYNYO - a research company based in Vienna. In the PERCEPTIONS project I lead platform development and the drafting of policy briefs.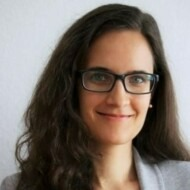 Short bio
Melina Breitegger is a researcher and coordinator of EU-funded projects in the field of migration and security research. In PERCEPTIONS Ms Breitegger leads the development of the PERCEPTIONS platform.
Melina Breitegger coordinates the projects Migration Ties ( https://www.migrationties.at/ ) and SHIELD ( https://shieldproject.eu/ ). Migration Ties is a research project that studies transnational ties and milieu-affiliation of migrants living in Austria. SHIELD is aimed at protecting places of worship from the risks of violent extremism.
Ms Breitegger works as communication and dissemination lead in several EU-funded projects, including UNCOVER ( https://www.uncoverproject.eu/ ) and MICADO ( https://www.micadoproject.eu ).
Ms Breitegger holds a PhD in International Relations from the University of Stellenbosch. She completed her Master's degree in Political Science, a Master's degree in Social Anthropology and a Bachelor's degree in Communication at the University of Vienna.
Contributions
Die Berichterstattung in Massenmedien über Migration ist oftmals negativ und lässt die Perspektive von Mig-rant*innen selbst außer Acht. Da sich insbesondere über soziale Medien Fehlinformationen leicht verbreiten, ist eine faktenbasierte…
Read More...