Dr. Melina Breitegger
I am a researcher and project manager at SYNYO - a research company based in Vienna. In the PERCEPTIONS project I lead platform development and the drafting of policy briefs.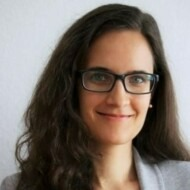 Short bio
Melina Breitegger is a researcher and coordinator of EU-funded projects in the field of migration and security research. In PERCEPTIONS Ms Breitegger leads the development of the PERCEPTIONS platform.
Melina Breitegger coordinates the projects Migration Ties ( https://www.migrationties.at/ ) and SHIELD ( https://shieldproject.eu/ ). Migration Ties is a research project that studies transnational ties and milieu-affiliation of migrants living in Austria. SHIELD is aimed at protecting places of worship from the risks of violent extremism.
Ms Breitegger works as communication and dissemination lead in several EU-funded projects, including UNCOVER ( https://www.uncoverproject.eu/ ) and MICADO ( https://www.micadoproject.eu ).
Ms Breitegger holds a PhD in International Relations from the University of Stellenbosch. She completed her Master's degree in Political Science, a Master's degree in Social Anthropology and a Bachelor's degree in Communication at the University of Vienna.
Contributions
Statistics on Asian migration, including migration from Asia to Europe, embed regional migration trends into the context of global migration dynamics.
Read More...
Migrants are relying on information communicated via different channels, from word-of-mouth to social media, to navigate their (often) dangerous journeys. It is therefore crucial to understand how narratives on transit and destination…
Read More...